Turkish Flatbread (Gözleme) Recipe
Turkish Flatbread, or Gözleme, is a really quick and easy way to add healthy fillings into homemade bread to make the ultimate sandwich for growing kids. You can pretty much add any filling you want, but my eldest is not a fan of meat or chicken and my youngest isn't a fan of green vegetables. So I added both to the filling and the boys enjoyed the result. Gözleme can be eaten as a hearty snack for when you're on the go, or as part of the main dish, and it's pretty much versatile enough to go with any side. Traditionally, you would add lemon wedges or pickled chillies as a complimentary side, but the world is your oyster!
Here is the recipe.
Ingredients
For the Dough
500g Plain Flour
60ml Extra Virgin Olive Oil
200ml Warm Water
For the Filling
2 Large Chicken Breasts, cut into strips and then halved.
1 Onion, finely chopped.
2 Cloves of Garlic, finely chopped.
Small Bunch of Fresh Parsley, finely chopped.
Small Bunch of Mint Leaves, finely chopped.
Small Bunch of Dill, finely chopped.
Small Bunch of Spinach, finely chopped.
200g Feta Cheese, crumbled.
2 Ripe Tomatoes, peeled and finely chopped.
Seasoning, Salt and Pepper to taste.
To Serve
1 Lemon, cut into wedges, and/or some Pickled Chillies.

For the dough:
Sift the flour and 1 teaspoon of salt together into a large bowl.
Make a well in the centre, pour in the olive oil, and then gradually stir in enough water to make a nice ball of dough.
Turn the dough onto a floured surface and knead for about 5 minutes, or until smooth and elastic.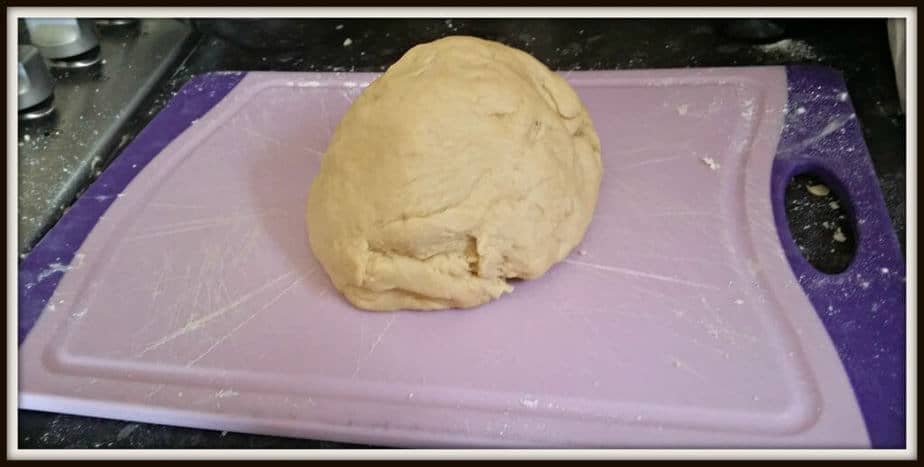 Split the dough into 6 equal balls and leave to rest under a tea towel for about an hour.
For the filling:
Fry the chicken in olive oil until golden brown.
Add the chopped onion and garlic and fry until soft.
Take off the heat and leave to cool.
Mix the chopped parsley, mint, dill and spinach with the crumbled feta in a large bowl and add a pinch of pepper.
Add the cooked chicken and onion mixture and mix well.
Add the chopped tomatoes and mix well.
Leave to cool and cover.
To make the flatbread:
Lightly dust a surface with flour and use the longest rolling pin you can find in the house to roll each dough ball as thinly as possible into a rectangular shape – somewhere around 30 – 40cm.
For each flatbread, fold the top third down towards you to cover the middle third.
Fold the bottom third up to cover the middle third too, so you have a long rectangle. Sometimes it's worth going over the rectangle with a rolling pin to elongate and thin out the rectangular shape further.
Add just enough filling mix to fill one half of the rectangle, but leave some space around the edges to fold the other half of the dough over.
Brush the edges with water then fold the other half of the pastry over the filling ingredients, pressing it down lightly all over, especially at the edges.
Heat your frying pan over a medium heat and cook one or two at a time dry (the dough has olive oil, so no need to add oil to the pan).
Fry for around 3 – 4 minutes on both sides until browned and crisp.
Cut in half and serve with lemon wedges and/or pickled chillies.

Never miss a new post!
Don't forget to tailor your preferences, so you just get the posts you want to read!
Follow Motherhood Diaries on Facebook (Facebook Recipes Page), Twitter, Pinterest, Instagram, Google+ and LinkedIn
If you'd like to share your pregnancy or parenting story, then please do share your story here. Don't forget to read our Ad Policy
FREE Resource Library!
Subscribe now and receive your exclusive password to access a whole library of extra content!
Checklists, Printables, Guides - it's all yours when you subscribe!
Leyla Preston (603 Posts)
Leyla Preston is the owner and Editor of Motherhood Diaries global magazine for parents. Leyla is a busy mother of two even busier boys; Aron, 8, and Aidan, 7. When Leyla isn't feeding, managing a gazillion tasks or cleaning the infinite mess at home, she is busy working on this magazine and a new cooking channel coming very soon – no rest for the wicked!You can follow Leyla on Twitter (@M_Diaries) or join the busy Motherhood Diaries Facebook group where all mums get together and share stories and solutions with one another: https://www.facebook.com//groups/motherhooddiaries/