38 weeks pregnant – the baby's half engaged
If you're pregnant, sign up below to receive personalised weekly emails straight to your inbox!
I saw my midwife and she told me that, at 38 weeks plus 2 days, I am 3/5 palpable, which means I'm 2/5 engaged! I had to go home and check what that actually meant, but basically it means that the baby's head is split into fifths & so 2/5 of the baby's head is in my pelvis, which means 3/5 still isn't. She also reckons that the baby is going to be about 7 1/2 pounds, which is great because I thought I was going to give birth to a ten pound baby! She advised me to buy some pineapple and raspberry leaf tea to speed the process along, so I've had my first cup and the tea is gorgeous!
By the time I finished my midwife appointment I was famished and polished off 2 chicken, bacon and egg sandwiches. My pregnancy appetite has definitely increased since Boxer has dropped down!
I have started to feel period-like pains in my lower back and around my tummy. They're very weak and I don't feel like I'm going into labour yet, but it's definitely a new feeling. I can only place them as Braxton Hicks contractions as they can't be the actual contractions. Whatever they are, they're definitely getting stronger! My pelvis still hurts too, but the midwife says that is good – it means the pelvis is stretching to let the baby in.
I am also feeling very large and uncomfortable. My belly is a massive round ball and when I sit down I feel like I'm squashing the baby! I wonder if this is the start of labour. I read up on the early signs of labour to find out whether my body is gearing up for childbirth.
I have also created an infographic (below) which goes through the early signs of labour in more detail. Click on the image below to print it out or pin to your Pinterest board.
Braxton Hicks contractions
Well, I am definitely getting something! The twinges and the period-like pains must fall into that category.
Diorrhoea
Well, to be honest, I wake up in the morning and have to go straight away, and in the last couple of days I've had to go twice a day!
Bloody show/extra discharge
Only twice in the past week I have seen a tiny amount of discharge which has a pinkish tinge. Once right at the beginning and once on Friday. I don't think this means anything as they were quite small and significant.
Burst of energy/nesting instinct
I haven't really had the urge to spring clean the house yet. I'm really hoping I do soon as the house needs to be cleaned properly, but I just don't have the energy to do that at the moment – I sit on my bum all day and type. I keep meaning to walk every day but it is sub-zero temperatures outside and it's snowing. Really, it's hibernation weather… I am trying to incorporate exercise so I feel a little bit health, especially with the all the sugary snacks I'm eating!
The baby drops down
This sign I definitely have. My bump has quite visibly dropped down and I can definitely feel the baby's head sitting in the pelvic region. The pressure in my pelvis alone is proof enough that there's an 8 pound baby (or thereabouts) sitting in there!
The cervix starts to open
No idea about this one. I haven't had an examination yet, but I'm hoping it thins out in time for the birth.
Your waters break
Unless they broke when I was on the loo, I don't think this has happened to me yet, but I've been told that the waters don't necessarily have to break before labour begins. The waters can break during labour, so I'm not really looking out for this one.
So, right now I am displaying 3 (well 3 1/2 if I count the discharge) out of the 7 signs, so I have a feeling I've got about a week left.
Maybe more!
A fun fact – The baby weighs about 7 to 7.5 pounds, and is likely to be between 19 and 21 inches long!
The science part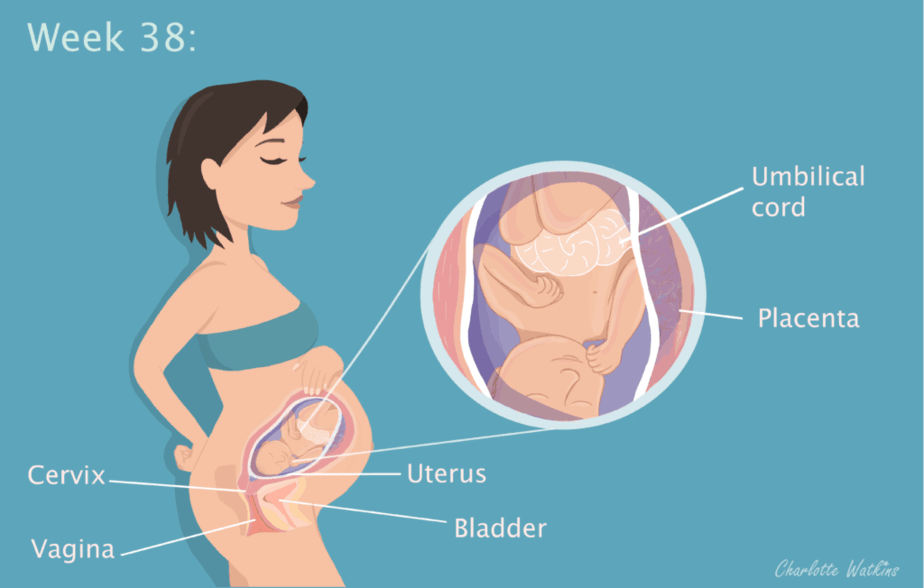 Your baby at 38 weeks
Your baby is the size of a marrow!
They are at full term and can come at any time now
The organs are now all fully formed and ready for life in the outside world
Your baby has likely moved down and their head is engaged.
Your baby is still swallowing your amniotic fluid, which is heading to their intestines and which will result in their first bowel movement (meconium).
Their lungs are still maturing and producing more surfactant, which is a substance that prevents the air sacs in the lungs from sticking to each other once the baby starts to breathe oxygen.
Your pregnancy signs and symptoms
You are probably getting impatient to meet your baby now, and feeling quite a bit of discomfort carrying your big lump of joy around. Not long to go now!
Try to make the most of your last few days before baby arrives. Get as much rest as you can before the baby comes and takes sleep away from you!
Are you experiencing leaky breasts? That's liquid gold called colostrum which your baby is ready to feed on when they greet you. Colostrum contains lots of antibodies that protect your newborn. Consider wearing nursing pads in your bra to protect your clothes
Your next steps
It's just a waiting game now for those hormones to release and kick start contractions, so you can push your baby out
Watch out for early signs of labour, including losing your mucus plug which is one of the first signs that labour is here
Continue with your pelvic floor exercises and start right NOW if you haven't done so already – you'll thank yourself later!
Keep an eye on your contractions if you feel they have started. If they last more than 30 seconds and are coming every 5 minutes then make a call to your hospital – your baby is coming!
Note: These are just general ideas of how you and your baby are getting on. Don't forget that every baby develops differently. If you are concerned about your baby's development, please consult your doctor or midwife.
*Illustrations by Charlotte Watkins. 
If you have any questions about her work, please contact Charlotte via her website, Facebook, Instagram or LinkedIn*
*Post contains affiliate links*