15 weeks pregnant – Time is really flying now
If you're pregnant, sign up below to receive personalised weekly emails straight to your inbox!
I have one more week before I hit four months into my pregnancy! How did that happen?? I cannot believe how time is really flying now.
I am still experiencing some pregnancy symptoms – I woke up with a really stuffy nose and thought I was catching a cold, but I then consulted Google and found that it's normal around around the 15th week of pregnancy to feel congested.
I don't feel like the constipation is getting any better either, even though I feel like I'm eating a lot of fibre. I'm eating cereal for breakfast, eating wholemeal bread and eating lots of fruit and veg, so I hope my clean diet will start to make a difference soon.
I also bought some Bio Oil for my bump because it is definitely getting bigger. I want to avoid getting stretch marks and I've been told by my friends that Bio Oil is the best for stretch marks. I really like Palmers Cocoa Butter too and have been using that for my whole body – the smell is so delicious as well!
The baby is about 10cm now! I measured 10cm against my belly and s/he is still so teeny tiny. I haven't felt any flutters yet either – apparently, it feels like gassy bubbles in your stomach, so I'm looking forward to feeling the kicks and prods from my baby, who apparently is acting like a gymnast this week.
My theory test is coming up, so I've bought my theory book at lunch to study, but the food has made me so sleepy that I can't concentrate on the questions. I need to be able to drive to places, so I have to focus on getting my license before the baby is born – fingers crossed!
A fun fact – The baby is small enough to fit into the palm of your hand – About the size of orange!
The Science Part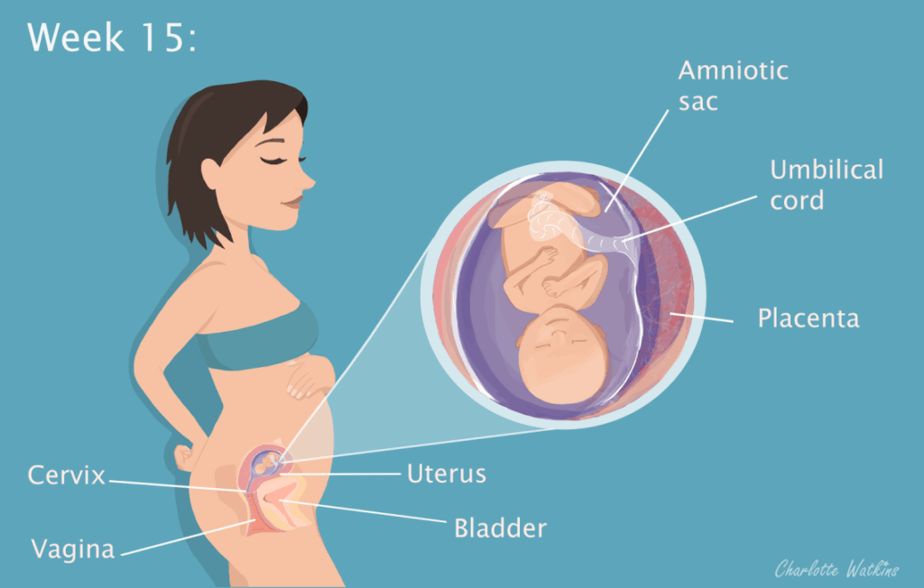 Your baby at 15 weeks
Your baby is working on their sense of smell now, but they can't detect any smells yet.
Their tiny chest can inhale, which kick starts the olfactory system
Your baby is sucking their thumb and wriggling about at the moment. These movements are great for coordination and building strength. You are unlikely to feel these movements yet, although some people say they can feel little flutters in their tummy, especially if your placenta is in the back wall.
Your baby is practising breathing by swallowing amniotic fluid
They're gaining more weight too!
Your baby's external genitalia is now complete
The placenta is now developed and is transporting all the oxygen your baby needs
Your baby's tastebuds are formed and functioning
Your pregnancy signs and symptoms
You might have regained your energy now or feeling a little depressed – both are normal reactions but be sure to mention to the doctor or midwife if you are concerned. They are there to help with the emotional side of pregnancy too.
You may be feeling some backache and constipation. Exercise is great to help move things along. Just 30 minutes a day will suffice.
You may be starting to notice changes in your hair and skin during the second trimester which will bring about that legendary 'glow'. If you haven't experienced this glow yet, not to worry, it will come for you soon!
Your next steps
Keep drinking lots of water as the hormone progesterone is slowing down the movement of food through your system which is why you may feel a little constipated.
Seek out fibre-rich foods and if you need a little extra help, prune juice or gentle medication can work a treat!
Having sex won't harm your unborn baby unless your doctor has advised against it. Double check with your doctor if you're feeling frisky and are unsure whether you are ok to proceed. You don't need contraception!
Your emotional wellbeing is very important during pregnancy – staying cool, calm and collected will help your little baby to stay the same – and develop properly too!
Have you had your blood tests yet? If not that's due to come soon! Hopefully, you should have had your scan by now.
It may be time to find a new way of sleeping as your bump grows – you can start to support your bump with maternity pillows, which help you to sleep on your left side more comfortably.
Note: These are just general ideas of how you and your baby are getting on. Don't forget that every baby develops differently. If you are concerned about your baby's development, please consult your doctor or midwife.
*Illustrations by Charlotte Watkins. 
If you have any questions about her work, please contact Charlotte via her website, Facebook, Instagram or LinkedIn*Contains affiliate links
Contains affiliate links